Because of EU regulations: Rolls-Royce's Spirit of Ecstasy is no longer available as an illuminated crystal version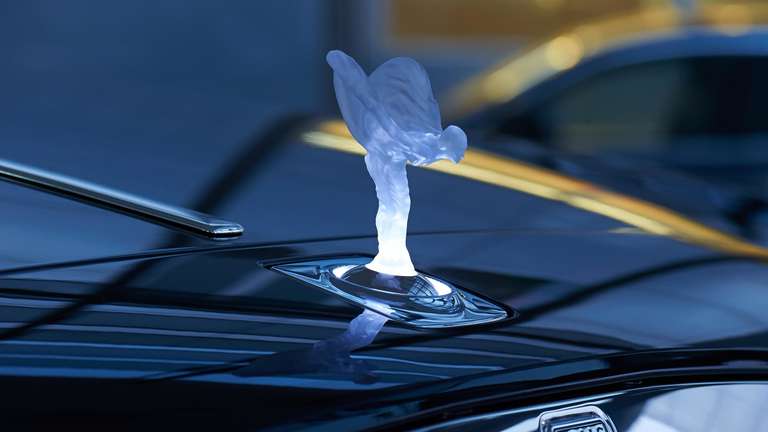 At one time, the illuminated radiator mascot was one of the most eccentric extras money could buy. The 4,000-euro option was popular with Rolls-Royce customers. But now the crystal-glass figurine is falling victim to Brussels' regulatory frenzy. Back in early 2019, the popular option was withdrawn due to changes in EU regulations on car lighting. The regulation in question, number 48 of the United Nations Economic Commission for Europe (UN/ECE), is about uniform conditions for the approval of vehicles with regard to the installation of lighting and light signaling devices. During the Brexit negotiations, EU law still applies on the British Isles.
The illuminated version of the "Spirit of Ecstasy" was first seen on the Rolls-Royce 103EX study in 2016. A short time later, the gimmick made its way into the price lists of the production models. For three years, "Emily" was allowed to shine on the radiators of the various Rolls-Royce models. Now the luxury car manufacturer is reacting to the change in EU regulations. Accordingly, no more vehicles may be delivered with the illuminated radiator mascot. In addition, models already on the road must be recalled to workshops so that the crystal glass version can be replaced with a normal version.
Rolls-Royce owners now only have a choice between stainless steel, silver and even gold. The surcharge paid at the time is to be refunded to customers. In addition, Rolls-Royce is trying to work out a solution adapted to the customer's taste. The Rolls-Royce press spokeswoman did not want to reveal exactly how many vehicles are affected. We would also have been interested to know by when the illuminated radiator mascots of the cars on the road have to be converted. Apparently, the illuminated "Spirit of Ecstasy" is a touchy subject at Rolls-Royce, as not a single one of our five questions was answered. The only word from the European headquarters in Munich is, "No comment."
You can read the complete article on the ban on the illuminated "Spirit of Ecstasy" from Rolls-Royce at 24auto.de* *24auto.de is part of the Ippen-Digital network