Lorraine-Dietrich (FR)
Lorraine-Dietrich was a French automobile and aircraft engine manufacturer from 1896 until 1935.
Lorraine-Dietrich was not the first French constructor to win at the 24 Hours of Le Mans. That honour went to Chenard & Walcker at the very first edition in 1923. First specializing in railway equipment (under the name "Société Lorraine des anciens établissements Dietrich & Cie de Lunéville," known shortened as Lorraine-Dietrich) before launching itself in automobile manufacturing in 1896, Lorraine-Dietrich achieved two great firsts. By becoming the first constructor to win two consecutive victories in 1925 and 1926 then, that second year, by also scoring the first one-two-three in the very young history of the 24 Hours of Le Mans.

www.24h-lemans.com
– To place three cars on the three podium steps is an outright sign of excellence, so Lorraine-Dietrich joins the ranks of the greatest competitors in the prewar history of Le Mans like Bentley, Alfa Romeo and Bugatti. It may seem even more astonishing that Lorraine-Dietrich won Le Mans not with race cars, but with luxurious tourers like the Type B 3/6 that was powered by a 115 horsepower 3.4-liter straight-six.
Motometer (c1925)
The first radiator cap ornaments used by Lorraine-Dietrich were different types of motometers.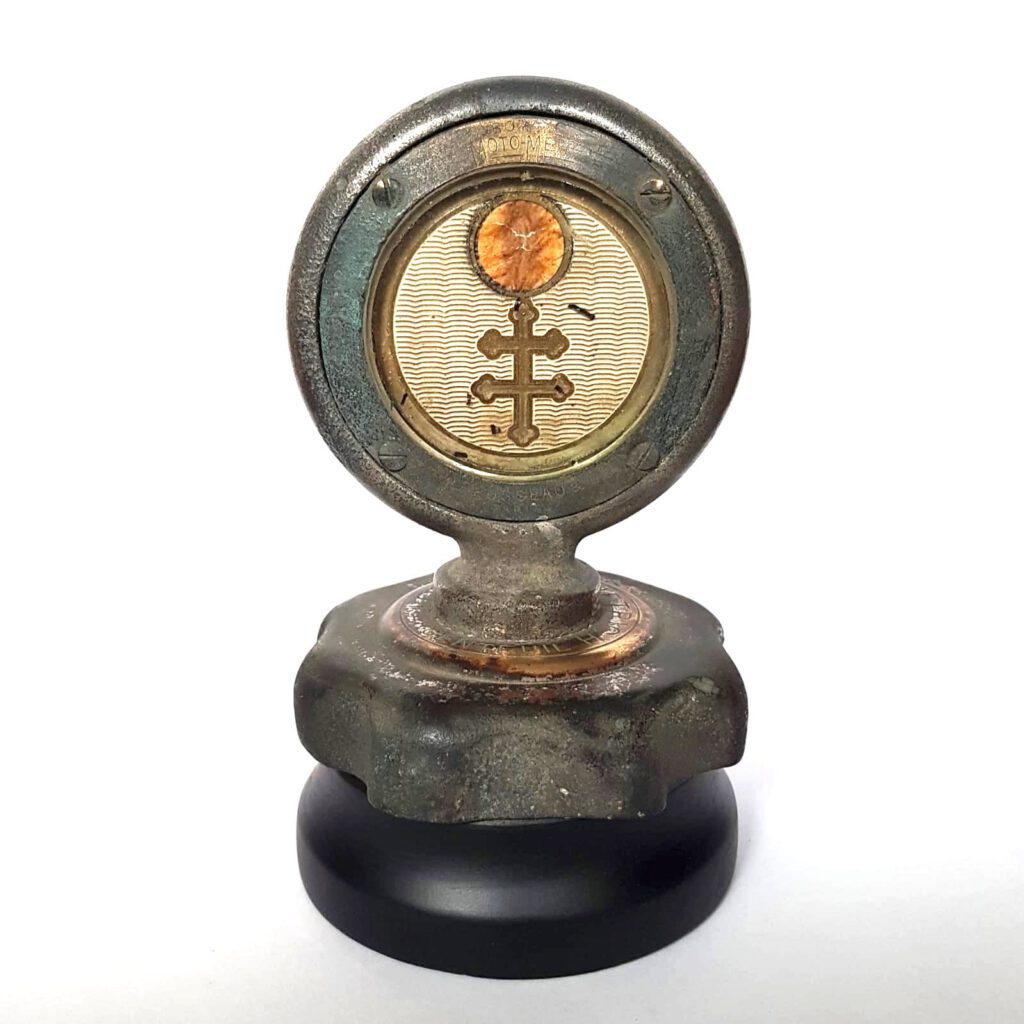 Motometer (1919-c1933)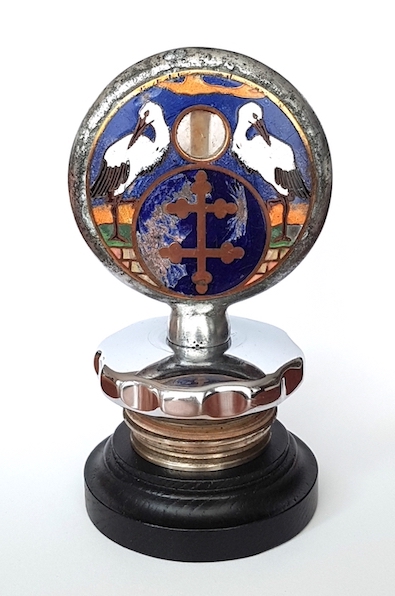 In comparison to the more common motometers by Boyce, this early motometer did not feature the normal metal face-plate with an imprinted logo behind a round glass. Instead, it featured a beautiful enamel emblem very similar to the later official radiator emblem, but with the addition of a small hole to allow the integrated thermometer to be seen against the light from the driver's seat. On the backside is a French temperature scale with the letters LORRAINE-DIETRICH.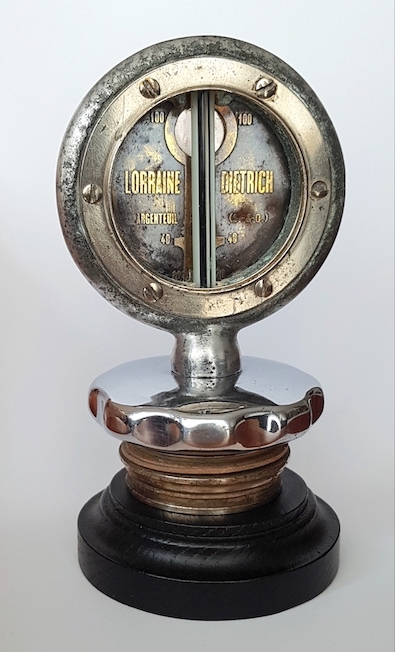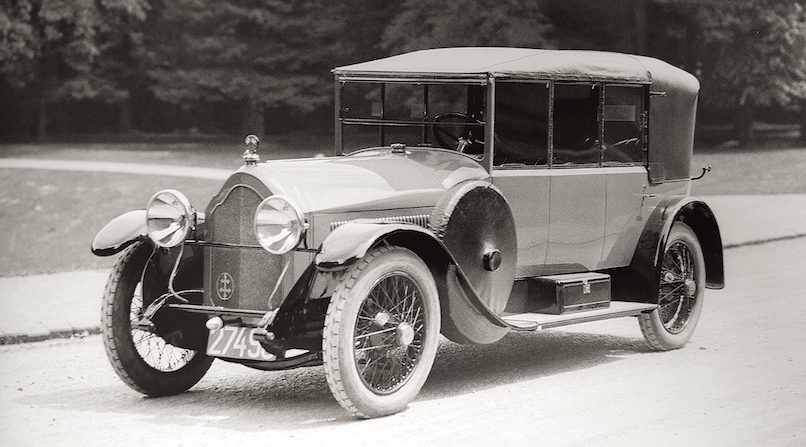 If you look closely at the 1919 advertisement above, you will find another interesting detail: besides the motometer on the radiator the car already has an additional Cross of Lorraine ornament on the gas cap right in front of the windshield!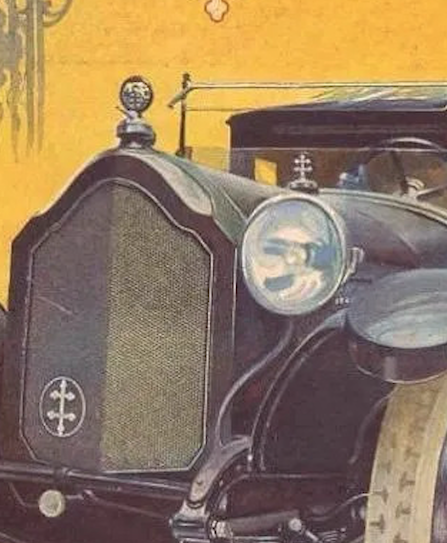 Cross of Lorraine (1919-1930)
This Cross of Lorraine in a circle as enamel/glass ornament has been used throughout the 1920s as a radiator mascot.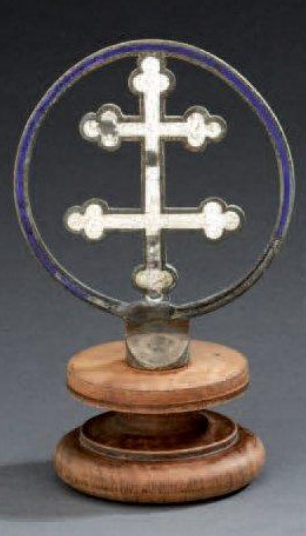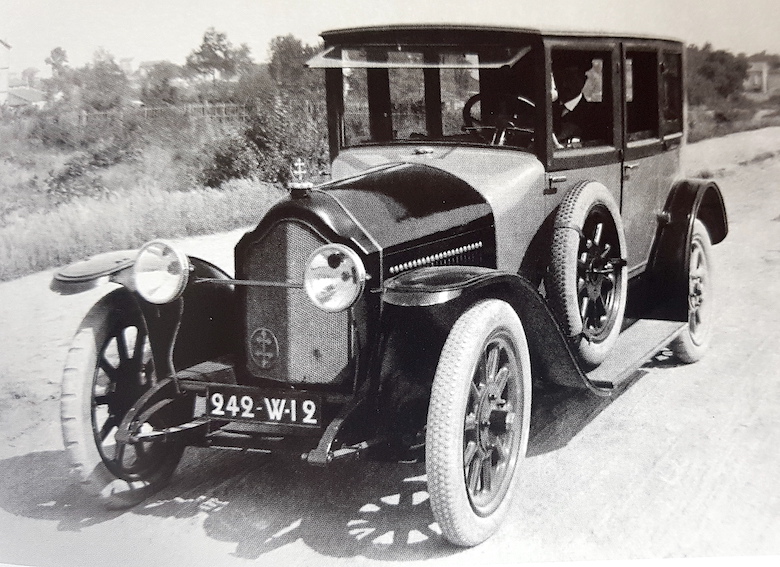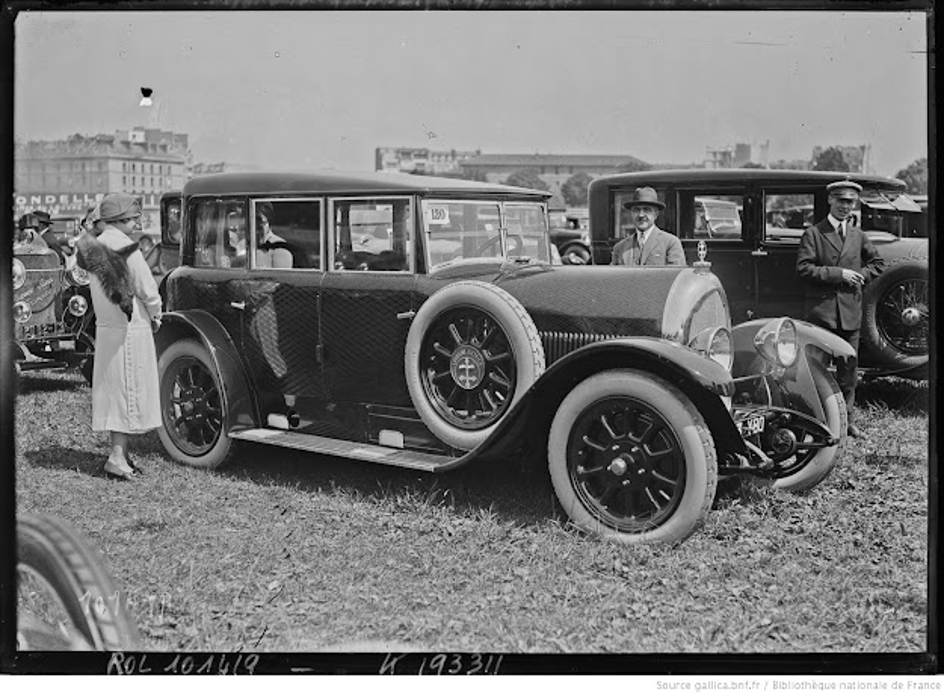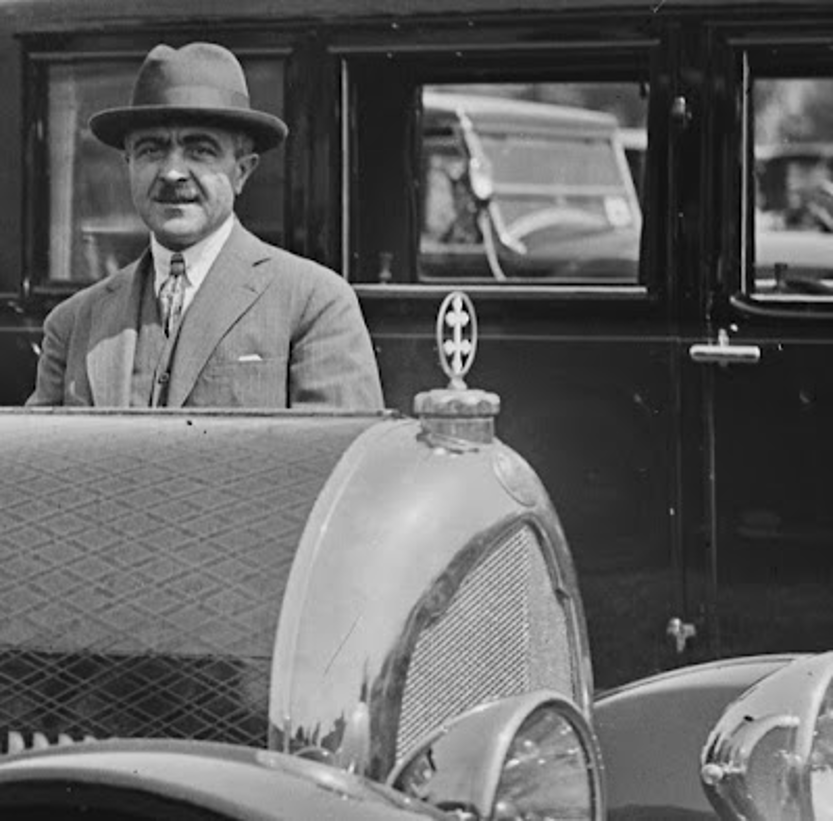 "Lévrier" (c1930)
Around 1930, when mascots had become more significance as a marque logo for marketing the brand, Lorraine-Dietrich obviously adopted a mascot that was created by the artist Casimir Brau as many contemporary photos show. It was available chrome or nickel plated.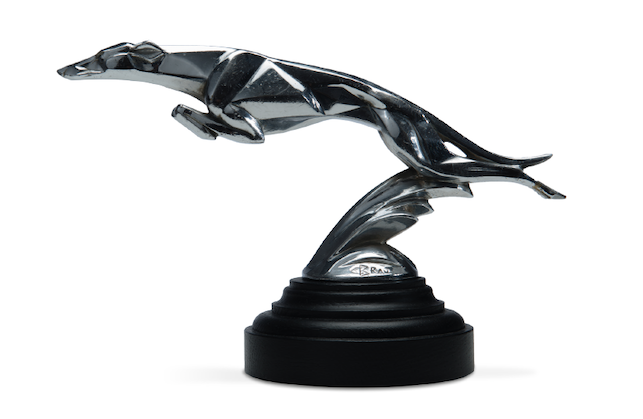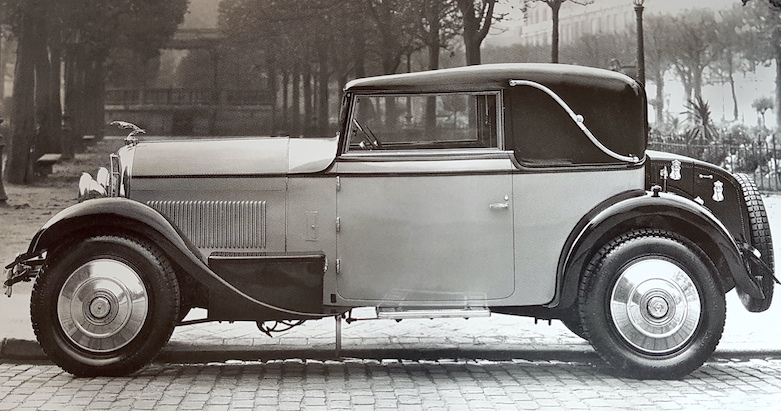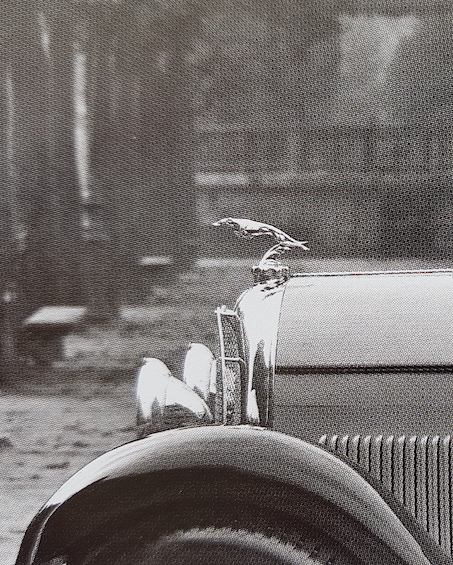 This particular mascot (Mestre & Blatgé Catalog No. 17579) was and still is confused very often with another mascot by Brau (Mestre & Blatgé Catalog No. 17612), which is due to the fact that design is very similar as the following extract shows: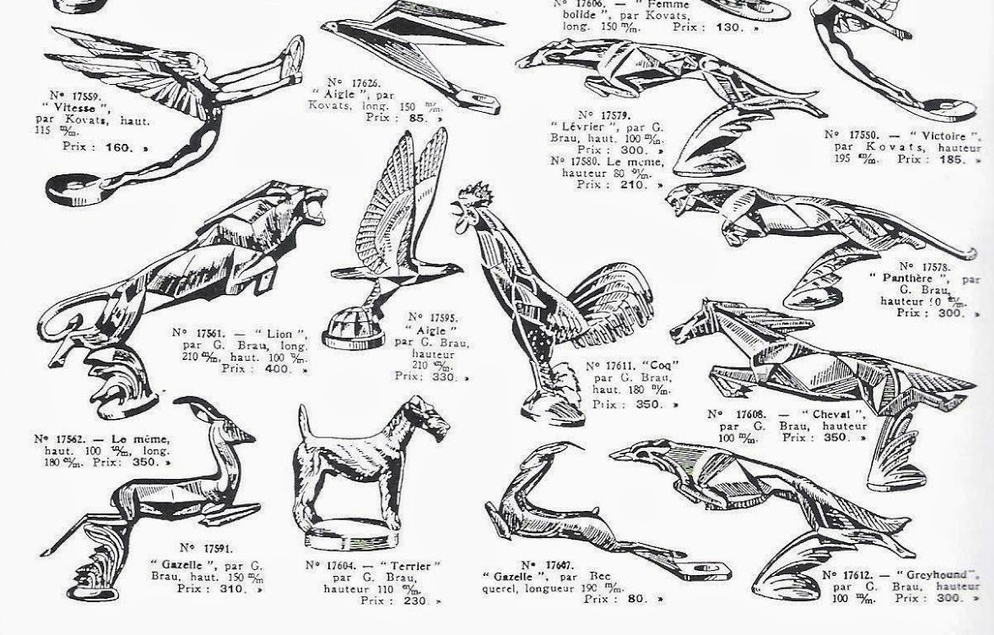 Accessory Motometer (1920s)
In addition to the above-mentioned official Lorraine-Dietrich motometer, there were also somewhat simpler motometers that featured the double cross emblem, sometimes combined with accessory mascots as can be seen in the following overview. As can be seen from old catalog illustrations of the French Auto Omnia catalog from the 1920s, these mascots were offered as accessory mascots not explicitly intended for Lorraine-Dietrich, i.e. the illustration of the motometer in the catalog is of another type and kept neutral without a logo. Furthermore this type of motometer was also available with logos from other manufacturers such as Peugeot, Shell, Bugatti and many more. The attentive observer will notice that the double cross is curiously upside down on both motometers.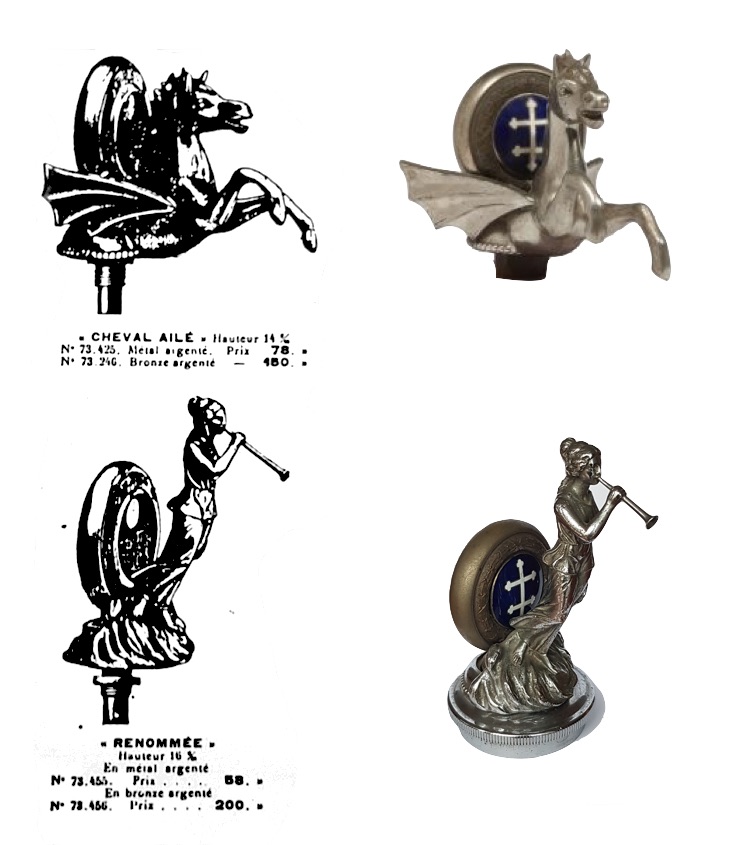 As with other cars, several mascots were used as accessories by car owners. Therefore, the fact that probably other mascots were also seen on Lorraine Dietrich models such as "Aigle" (Mestre&Blatgé No. 16951) or "Marabout" by Artus (Mestre&Blatgé No. 16959) does not automatically mean that these should necessarily be associated with Lorraine Dietrich.
"Flying" Cross of Lorraine (1931-1935)
In 1931 the new 20 CV replaced the 15 CV, but only a few hundred were produced. Car production eventually became unprofitable and after the failure of their 20 CV model, the company stopped producing cars in 1935.